Loose Cotton Shank mount wheel 4″ (4″ x 3/4″ x 1/4″ SHAFT)
Gets into cracks and crevices better than Spiral Sewn Cotton Wheels.
The main purpose of a loose cotton wheel is to polish and cut in a similar manner to the Spiral sewn wheel, except that this wheel, not being tightly stitched together, will 'mush' or collapse, allowing the cotton to get into awkward places more easily. If you have an object with fine details and awkward crevices, then this is the wheel to use.
Up To 5,000 RPM
Great way to buff and polish parts with a cordless drill.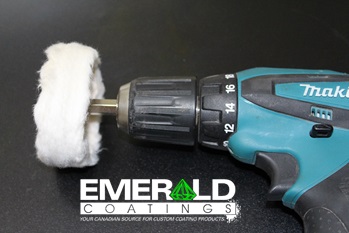 Pick up one of our Extension bit holders to get some extra leverage and flexibility.